Tom Gibbons
Managing Partner
One Commerce Square
2005 Market St #1920
Philadelphia PA 19103
Profile
A nationally acclaimed trial lawyer, Tom is the founder of Gibbons Legal, where he's the firm's managing partner and lead trial attorney.
Many of Tom's cases have been featured by local, national, and international news outlets, including Fox News, ABC News, CBS News, CNN, MSNBC, Inside Edition, The Associated Press, The Los Angeles Times, The Philadelphia Inquirer, The London Times, The Daily Mail (United Kingdom), and countless law blogs. One such case, a police brutality claim against the City of Philadelphia, resulted in $490,000 settlement and the City launching a massive investigation into its use of Emergency Patrol Wagons and the manner in which detainees are transported.
In addition to his trial practice, Tom teaches trial strategy and technology at Temple University School of Law's prestigious LL.M. in Trial Advocacy program, where he earned his Master's Degree in trial law (with honors).
Tom began his legal career prosecuting criminals and protecting victims' rights with the Montgomery County (Pennsylvania) District Attorney's Office. He thereafter spent several years working for the insurance companies, defending their insureds who hurt others in car accidents, slip and fall accidents, and work accidents. That work, however, was very unsatisfying, because of which he redirected his efforts to helping those hurt by others. (See our Notable Victories page.).
Outside the courtroom, Tom is a devoted husband to Maria and dad to Jude, Abby, and Penny. He enjoys coaching little league, hosting magical imaginary tea parties, and otherwise playing with his kids. He's the world's "#1 Dad," as voted by his kids, for which honor he received the world's greatest homemade trophy from his daughter, Abby. He's also an avid sports fan, particularly baseball, and still plays competitive men's slow-pitch softball. As the manager and power-hitting first baseman, he helped his team win the Pennsylvania state championship, and finish 9th at the national championship, in 2014.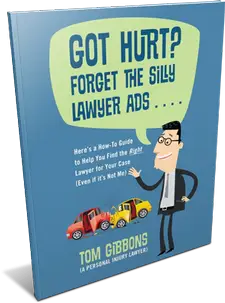 Tom is also a published author. His first book (Got Hurt? Forget the Silly Lawyer Ads….) is a how-to guide to finding the right lawyer for your case (even if it's not Tom). And his second book (Car Accident? What the #&@! is Limited Tort?) explains the basic concepts of limited tort insurance coverage and how it affects a Pennsylvania car accident claim. Tom is actively writing several other books on the law, and hopes to eventually write a novel.
Tom is licensed to practice law in Pennsylvania, New Jersey, the United States District Court for the Eastern District of Pennsylvania, and the United States District Court for the District of New Jersey.
Awards and Recognition
Throughout his career, Tom has been recognized by numerous organizations as being among the best lawyers in the country.
Top 100 Trial Attorneys
National Trial Lawyers Association
American Academy of Trial Attorneys
America's Top 100 Lawyers
Top Trial Lawyers in America
Million Dollar Advocates Forum
Rue Ratings
Top 40 Under 40
National Trial Lawyers Association
American Society of Legal Advocates
Top Pennsylvania Attorneys
SuperLawyers: Super Lawyer (Top 5% in Pennsylvania)
SuperLawyers: Rising Star (Top 2.5% Younger Than 40)
Top 1% in Pennsylvania
National League of Renowned Attorneys
Distinguished Justice Advocates
Top American Lawyers
Top 10 in Pennsylvania
National Academy of Personal Injury Attorneys
National Association of Personal Injury Attorneys
American Institute of Personal Injury Attorneys
American Jurist Institute
AVVO
Top Personal Injury Attorney
Top Car Accident Attorney
Perfect 10: Superb
Clients' Choice